Are you searching on Google for the best easyStorage promo codes? We are delighted to promote our new discount offer for easyStorage in the UK.
You will recognise the logo because easyStorage is part of the easy family of brands and easyStorage takes the hassle away from storage with their all-inclusive mobile service.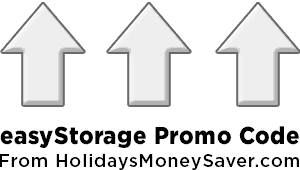 How to Add the Discount Code Coupon at easyStorage
Quick and easy, just follow this simple guide to save money at Easy Storage:


As a starting point, please visit the official website as normal: easyStorage.com.


Click the large 'SEE PRICES & BOOK' orange button on the home page.


What's your location? Enter your full UK postcode and click 'CONTINUE'.


Now 'SELECT' the storage option you require e.g. 1 easyPod, 2 easyPods, 3 easyPods etc (as a guide, 1 x easyPod equals 35 sq.ft).


On the right side of the screen, click the link: 'I have a Promo Code'.


Enter (or copy/paste) the code show above where it says [Promo Code] and then click the orange 'Apply' button.


And that's it! Now your subtotal will be reduced by £25.00 (as per the current active offer).


On the right side of the screen it will display your: "easyStorage online offer" confirmation and price reduction.


Simply fill out the short form and then click 'BOOK NOW' to take your discounted storage service into the secure payment area.
Why is this Unique? Collection & Storage & Return
The easyStorage storage service includes collection, storage and return, so you don't have to lift a finger. Unlike traditional self-storage, they bring their easyPods to your door. They load items there and then, close the easyPods using security seals and take them to a secure easyStorage warehouse.
Moving to a new house? Relocating? Travelling? Need extra space? With easyStorage, you do not have to lift a finger; just sit back and relax while they take care of your belongings. What's more, to keep your costs down, they don't charge for drive time or fuel.
Why is this Different?
Let's explore some of the benefits and key features of this quick and easy storage service in the UK:

Free van for pick-up collection and return.





Secure storage of your items in sealed pods.





Loading services are available.





Access to your items is available.




Prices tend to be up to 50% cheaper than traditional self-storage.

What is the Best Discount Code for easyGuide?
Did you know HolidaysMoneySaver.com also has an authorised discount voucher code for easyGuide? You can save money and get the best discount on Tours, Attractions & Activities in the UK, across Europe and around the world : easyGuide Promo Code SAVE 10%.
What is the Best Discount Code for easyStorage?
HolidaysMoneySaver.com is an authorised discount partner and we will always post the best code offer on this page. Let's review the current promotional range:

ACTIVE PROMO CODE : £10 >> £15 >> £20 >> £25 >> £30 >> £35 >> £40
How to Save Money on UK Secure Storage Units
It is could not be easier to sign up and the good news is that you can save money with a promo code for easyStorage.
Easy Storage (easyStorage) is available around the UK, in Greater London, South England, Midlands, and Scotland, and you can learn more today at easyStorage.com.