Logitravel UK Discount Code Exclusive SAVE 5% DISCOUNT
Are you searching for a discount code for Logitravel.co.uk? Great news, your search is over because we have an exclusive discount code promotion for you: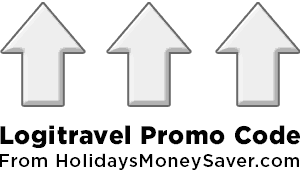 How Do I Get The Discount Code?
OK, here's the deal! Normally when you go to the website Logitravel.co.uk, you will not find any place to submit a coupon code.


However, we are official discount partners for Logitravel in the UK and when you visit the official website Logitravel.co.uk through the links on this page, you will find a place to add our exclusive promo code. Nice and simple!


The good news is that you can use the code above ########## when you purchase 'Holiday Packages' or 'Great Trips' (Holiday Tours, Multi Centre, Fly & Drive).
Where Do I Submit The Discount Code?
Holidays Packages
On the final payment screen, just above where you enter your payment card details, it says 'Have you got any discount codes? If you have a Promo Code, plese write it here.' Simply enter the code above ########## and click the 'Apply' button.

Great Trips (Holiday Tours, Multi Centre, Fly & Drive)
For 'Great Trips', it works in a slightly different way. You will still see the same message above, however you submit the code before you reach the final payment screen.
Where Happens After I Submit The Code?

After the code has been entered, it will display 'Promotion code is valid and has been accepted' and the total holiday cost will be reduced by 5%. You will see the original price and the amount discounted, so you will know exactly how much money you have saved.


Congratulations, you have just saved money on your holiday. Finally, enter your details and then click 'CONFIRM YOUR BOOKING' in the bottom right corner.

LOGITRAVEL LIMITED is a UK registered company at this registered address in London: 7 Plaza Parade, Maida Vale, NW6 5RP, London, with registration number 8344290 and VAT number 155142921.

Logitravel has full ABTA membership (ABTA P6643). Travel with confidence and book your holiday, safe in the knowledge that Logitravel is an ABTA member and you are ABTA protected.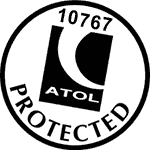 When booking a flight or flight inclusive holiday on any website you should look for the ATOL protected logo and ATOL number. In the case of Logitravel, it is #10767. When you book and travel with Logitravel.co.uk, you are booking safely with ATOL protection.
Planning a Holiday? Let's Look at the Top 100+ Destinations
As listed on Wikipedia, you might wish to consider the top 100+ cities and countries, ranked by the number of international visitors. Using data from Euromonitor and Mastercard, the ranking includes all international arrivals by land, sea, or plane, for tourist or business purposes.
| | | | | | | |
| --- | --- | --- | --- | --- | --- | --- |
| Rank | City | Country | | 69 | Doha | Qatar |
| 1 | Hong Kong | Hong Kong | | 70 | Chiang Mai | Thailand |
| 2 | Bangkok | Thailand | | 71 | Edirne | Turkey |
| 3 | London | United Kingdom | | 72 | Jerusalem | Israel |
| 4 | Singapore | Singapore | | 73 | Saint Petersburg | Russia |
| 5 | Macau | Macau | | 74 | Warsaw | Poland |
| 6 | Dubai | United Arab Emirates | | 75 | Melbourne | Australia |
| 7 | Paris | France | | 76 | Marrakesh | Morocco |
| 8 | New York City | United States | | 77 | Vancouver | Canada |
| 9 | Shenzhen | China | | 78 | Auckland | New Zealand |
| 10 | Kuala Lumpur | Malaysia | | 79 | Tel Aviv | Israel |
| 11 | Phuket | Thailand | | 80 | Honolulu | United States |
| 12 | Delhi | India | | 81 | Artvin | Turkey |
| 13 | Tokyo | Japan | | 82 | Kolkata | India |
| 14 | Rome | Italy | | 83 | Kraków | Poland |
| 15 | Taipei | Taiwan | | 84 | Guilin | China |
| 16 | Guangzhou | China | | 85 | Brussels | Belgium |
| 17 | Mumbai | India | | 86 | Frankfurt am Main | Germany |
| 18 | Mecca | Saudi Arabia | | 87 | Stockholm | Sweden |
| 19 | Istanbul | Turkey | | 88 | Jeju | South Korea |
| 20 | Prague | Czech Republic | | 89 | Mexico City | Mexico |
| 21 | Miami | United States | | 90 | Siem Reap | Cambodia |
| 22 | Seoul | South Korea | | 91 | Lima | Peru |
| 23 | Barcelona | Spain | | 92 | Rio de Janeiro | Brazil |
| 24 | Pattaya | Thailand | | 93 | Rhodes | Greece |
| 25 | Shanghai | China | | 94 | Buenos Aires | Argentina |
| 26 | Milan | Italy | | 95 | Colombo | Sri Lanka |
| 27 | Cancún | Mexico | | 96 | Abu Dhabi | United Arab Emirates |
| 28 | Agra | India | | 97 | Taichung | Taiwan |
| 29 | Las Vegas | United States | | 98 | Washington D.C. | United States |
| 30 | Amsterdam | Netherlands | | 99 | Chiba | Japan |
| 31 | Antalya | Turkey | | 100 | Nice | France |
| 32 | Denpasar | Indonesia | | 101 | São Paulo | Brazil |
| 33 | Osaka | Japan | | 102 | Zürich | Switzerland |
| 34 | Los Angeles | United States | | 103 | Montreal | Canada |
| 35 | Vienna | Austria | | 104 | Chicago | United States |
| 36 | Berlin | Germany | | 105 | Düsseldorf | Germany |
| 37 | Madrid | Spain | | 106 | Boston | United States |
| 38 | Johor Bahru | Malaysia | | 107 | Chengdu | China |
| 39 | Johannesburg | South Africa | | 108 | Edinburgh | United Kingdom |
| 40 | Riyadh | Saudi Arabia | | 109 | San Jose | United States |
| 41 | Ho Chi Minh City | Vietnam | | 110 | Tehran | Iran |
| 42 | Venice | Italy | | 111 | Houston | United States |
| 43 | Orlando | United States | | 112 | Hamburg | Germany |
| 44 | Chennai | India | | 113 | Cape Town | South Africa |
| 45 | Jaipur | India | | 114 | Manila | Philippines |
| 46 | Athens | Greece | | 115 | Bogota | Colombia |
| 47 | Dublin | Ireland | | 116 | Xi'an | China |
| 48 | Florence | Italy | | 117 | Beirut | Lebanon |
| 49 | Moscow | Russia | | 118 | Geneva | Switzerland |
| 50 | Toronto | Canada | | 119 | Xiamen | China |
| 51 | Hanoi | Vietnam | | 120 | Bucharest | Romania |
| 52 | Beijing | China | | 121 | Casablanca | Morocco |
| 53 | Ha Long | Vietnam | | 122 | Atlanta | United States |
| 54 | Sydney | Australia | | 123 | Sofia | Bulgaria |
| 55 | Budapest | Hungary | | 124 | Dalian | China |
| 56 | Punta Cana | Dominican Republic | | 125 | Montevideo | Uruguay |
| 57 | San Francisco | United States | | 126 | Amman | Jordan |
| 58 | Jakarta | Indonesia | | 127 | Hangzhou | China |
| 59 | Dammam | Saudi Arabia | | 128 | Pune | India |
| 60 | Munich | Germany | | 129 | Durban | South Africa |
| 61 | Lisbon | Portugal | | 130 | Dallas | United States |
| 62 | Zhuhai | China | | 131 | Accra | Ghana |
| 63 | Heraklion | Greece | | 132 | Quito | Ecuador |
| 64 | Penang Island | Malaysia | | 133 | Tianjin | China |
| 65 | Cairo | Egypt | | 134 | Bangalore | India |
| 66 | Copenhagen | Denmark | | 135 | Qingdao | China |
| 67 | Kyoto | Japan | | 136 | Philadelphia | United States |
| 68 | Phnom Penh | Cambodia | | 137 | Lagos | Nigeria |
| | | | | | | |