Barceló Hotel Group Promo Code For Worldwide Discounts
Today is your opportunity to get the ultimate in hotel luxury at affordable prices. Whatever type of holiday you have planned for your vacation, you will find a vast range of options at Barcelo, including:
• Scuba Diving • Couples • Families • Spa Resorts • Hotels with a Casino • All Inclusive Deals • Weddings & Honeymoon • Adults Only • Hotels for Pets • Golf Hotels & Golfing • Beach Resorts •
OK, Just Show Me The Barcelo Discount Deals

We offer you a promo code deal at Barceló Group Hotels worth an amazing 10% to 30% discount. We have an online 5% discount code for all destinations, or you can get a 40% price reduction at selected resorts. Please read on for more details, including instructions on how to get reduced room rates at Barcelo.com.
View Barcelo Discount Code
& Open Site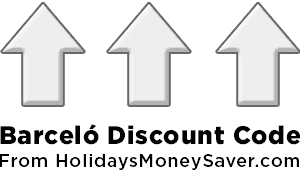 How To Use The Promo Code
You can enter the code on the hotel search page.


Or, you can enter the code on the final page before you reach the payment page. Simply click the arrow where it says : 'Applicable Discounts'.


Next, where it says 'Do you have a discount code?', simply enter the code shown above and click 'APPLY DISCOUNT'.

Optional Extras: To make your stay even more enjoyable, you can add on extras to your booking, including birthday cake, late checkout, buffet breakfast and airport transfers.
Barceló Group Hotels SAVE 10% to 40% See Below:
Now let's explore the worldwide 10% options:
LATEST >>> Discount Promo Code Offers
<<< LATEST
Español: Codigo Promocional ~ Deutsch: Angebotscode ~ Français: Code Promotionnel ~ Italiano: Codice Promozionale ~ Português: Código Promocional ~ Türkçe: Promosyon Kodu ~ Polish ~ Kod Promocyjny.
When you reach the 'Offers' page, please select from the latest deals available. Destinations can include: Morocco ~ Granada ~ Italy ~ Dubai (Occidental - IMPZ Dubai Conference & Events Centre) ~ Madrid ~ Barcelona ~ Dubai Marina Residences ~ Prague ~ Allegro Playacar ~ Royal Hideaway Playacar. The accommodation venues are very popular for meetings, business and conferences, in addition to vacations.
Group Rates For Multiple Rooms & Long Stay Vacations
If you want to book multiple rooms or of you need to book an extended stay trip for a long vacation or business event, the good news is we have got that covered. We have useful tips on how to get group room rates, book multiple rooms and get a group booking discount at Barcelo Hotels.
Worldwide Vacation Destination Locations
Barceló Hotel Group has more than 245 hotels and more than 54,000 rooms in 22 countries and the group is the 3rd biggest hotel chain in Spain and the 29th in the world. The company is made up of 4 brands: Royal Hideaway Luxury Hotels & Resorts, Barceló Hotels & Resorts, Occidental Hotels & Resorts and Allegro Hotels.
Are regards accommodation locations, the main regions of the world are:
North Europe
South Europe
North Africa
Middle East
Caribbean Islands
Central America
South America
Now let's explore some of the most popular hotel resort destinations for holidays worldwide:
Europe
• Spain • Germany • Turkey • Bulgaria • Czech Republic • Italy • Greece • Portugal


Latin America & Caribbean
• Dominican Republic • Cuba • El Salvador • Costa Rica • Ecuador • Guatemala • Nicaragua • Mexico • Aruba • Panama


Africa & The Middle East
• Morocco • Egypt • United Arab Emirates
Please view the full scope of the accommodation locations around the globe and learn more at the official website: Barcelo.com.