We have 3 different promo code discounts for easyGuide for you today and you can SAVE 10% discount on tickets for worldwide tourist attractions and activities in 2022 and 2023. easyGuide provides discounts at hundreds of exciting attractions, activities, experiences, and theatre shows at cities around the world to local people and international tourists.
You're already very familiar with the "easy" brand through companies like easyJet, easyHotel, easyJet Holidays and it's one of the most well-known brands within European travel and tourism, servicing over 100 million customers.
If you're searching for the £50 easyGuide promo, you've come to the right place! Let's start be revealing these exclusive global discount codes: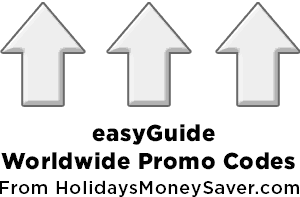 easyGuide London Promo Code For Attractions & London Theatres
The most popular tickets and experiences in London include bus tours, boat cruises, Harry Potter tours, London theatre shows, art galleries and museums, including the incredible London Transport Museum.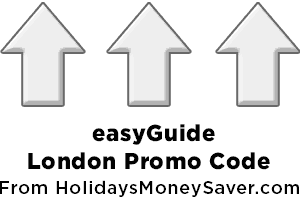 What is the Best Discount Code for easyStorage?
Did you know HolidaysMoneySaver.com also has an authorised discount voucher code for easyStorage?
easyStorage is part of the easy family of brands along with easyGuide and easyJet. You can SAVE £25 and get the best discount at easyStorage UK storage service : easyStorage Promo Code SAVE £25.
Tower Bridge Tour
Topping our list of must-see London attractions is the iconic Tower Bridge. Completed in 1894, Tower Bridge is one of the world's most famous bridges.
Victoria and Albert Museum
Named after Queen Victoria and Prince Albert, the V&A wears the crown as the world's largest museum of decorative arts and design. Its priceless collection includes sculptures, paintings, ceramics, fashion, drawings, and books from ancient times to present day.
Tower of London Guided Tour
Home to the Crown Jewels and the iconic beefeaters, the Tower of London's history dates back nearly 1,000 years. Standing guard by Tower Bridge and the River Thames, the medieval compound has served as a royal palace, prison, and execution site.
The Shard
Scraping the sky at 306 metres, western Europe's tallest building boasts a high-end hotel, restaurants and bars and London's highest viewing platform.
Sherlock Holmes Museum
Visit the Sherlock Holmes Museum at 221b Baker Street in central London.
Westminster Abbey Tour
The site of every coronation since 1066, this Gothic church is the final resting place for 17 monarchs, Sir Isaac Newton, Charles Dickens, Sir Laurence Olivier, and many others. It's also a favourite for royal wedding and Prince William married Kate Middleton here in 2011.
The National Theatre
More than 10,000 actors have tread the boards at the National Theatre including Benedict Cumberbatch, Judi Dench, Laurence Olivier and Maggie Smith. See a play, indulge in one of the theatre's delicious restaurants, or treat yourself to a backstage tour.
Buckingham Palace Tour
The official London residence of Britain's sovereigns since 1837, Buckingham Palace boasts a priceless art collection and 775 rooms, 78 of which are bathrooms. Check out the flag above the Palace, when the Royal Standard is flying, it tells you Queen Elizabeth is home.
Harrods
The famous Knightsbridge store with the iconic green awnings has been offering luxury goods to its customers for over 160 years.
London Transport Museum
At the London Transport Museum, you can explore the history of the iconic Underground system, and discover how horse-drawn carriages, trains, and all of those bright red double-decker buses have kept the city moving since 1800.
St. Paul's Cathedral Tour
Completed by Sir Christopher Wren in 1710, St. Paul's Cathedral stands at the highest point in the old City of London. Visit the crypt and the dome's spectacular Whispering Gallery.
Tate Modern and Tate Britain
Tate Modern is a must for contemporary art lovers. Housed in the former Bankside Power Station, the vast collection includes works by Picasso, Warhol, Dalí, and Matisse. Tate Britain is where you'll find pieces by Turner, Hirst, and Bacon.
Houses of Parliament Tour
Also known as the Palace of Westminster, this is the seat of Britain's political power. Completed in 1870, the Gothic-style building, and its Elizabeth Tower (housing the 13-ton bell, Big Ben) is one of the most iconic London attractions.
Wembley Stadium Tour
Football, known as soccer to Canadians and Americans, is one of Britain's favourite pastimes. Premier League teams such as Chelsea, Arsenal and Tottenham located in London are all open for tours. If you want to go even bigger, treat yourself to a tour of London's Wembley Stadium.
Changing the Guard
Every day from April to July (and every other day the rest of the year), visitors gather outside Buckingham Palace to watch the colourful Changing the Guard ceremony
Leadenhall Market Tour
You will recognise it as Diagon Alley in Harry Potter and the Philosopher's Stone, this covered Victorian market in the City of London hosts pubs, shops and market stalls selling flowers, meat, cheese and fresh produce.
London Eye
Keeping watch over the Thames since 2000, the London Eye is the world's largest cantilevered observation wheel. Millions of visitors each year experience the Eye's breath-taking views of London's skyline.
Hampton Court Palace Tour
A favourite royal residence of Henry VIII, Hampton Court Palace takes you back in time to the times of the Tudors and Stuarts. Visit the Great Hall and the Chapel Royal, and get lost in the famous garden maze.
National Gallery London
Masterpieces Botticelli, Leonardo da Vinci, Rembrandt, Turner, Renoir and Van Gogh are ready for you to discover at London's National Gallery, boasting more than 2,000 paintings from the 13th to the 19th century. And if you're hungry for more art, stop by the National Portrait Gallery next door.
Trafalgar Square Tour London
The enormous bronze lions guard Nelson's Column, a memorial to Admiral Horatio Nelson who died in the Battle of Trafalgar in 1805. With its glorious fountains and close proximity to the National Gallery, the square is always buzzing with activity.
Greenwich Royal Observatory
At the Greenwich Royal Observatory, you can stand on the world's prime meridian, with one foot in the earth's eastern hemisphere, and the other in the western hemisphere. Discover Greenwich's Planetarium and Astronomy Centre, and stroll through beautiful Greenwich Park. The Cutty Sark and National Maritime Museum are also nearby.
The British Museum
An incredible collection of artefacts, sculptures, and antiquities including Egyptian mummies, the Elgin Marbles and the Rosetta Stone can be discovered at the British Museum
Covent Garden Tour
A shopping and entertainment hub in London's West End, Covent Garden centres on the elegant, car-free Piazza, home to fashion stores, craft stalls at the Apple Market, and the Royal Opera House. Street entertainers perform by 17th-century St. Paul's Church and the London Transport Museum is located at Covent Garden.
Kensington Palace Tour
Once the home of Princess Diana (and before that, a young Queen Victoria), Kensington Palace is currently one of the residences of the Duke and Duchess of Cambridge (William and Kate). The lush gardens and the King's and Queen's state apartments are open to visitors year round.
Hyde Park
Established in 1536 by Henry VIII, Hyde Park is one of London's largest green spaces, with more than 4,000 trees, vibrant flower gardens and a large meadow which plays host to many public concerts and celebrations. Check out the Princess Diana Memorial Fountain, enjoy a bite in the royal park's lakeside restaurants, or rent a row boat for a leisurely paddle on the Serpentine.
Buckingham Palace and The Mall Walking Tour
Take the scenic route along The Mall, this regal tree-lined boulevard stretches from the Admiralty Arch to the Palace, with St. James's Park on the south side and Green Park on the north.
Old Spitalfields Market Tour
One of the few surviving Victorian Market Halls in London, Old Spitalfields Market (established in 1876) offers antiques, food, clothing, collectable vinyl, and bric-a-brac to a bustling every day of the week.
Hampstead Heath
Get back to nature in Hampstead Heath, an ancient woodland and wild green space in the north of London. Climb Parliament Hill where you will discover a breath-taking view of the London cityscape and explore the heath's nature trails and playgrounds.
The Making of Harry Potter
The magical world of Harry Potter is only a 20 minute train trip from London's Euston Station. The Warner Brothers London Studio Tour gives you the opportunity to visit the original Harry Potter film sets, explore the collection of costumes and props, and even indulge in a refreshing mug of Butterbeer.
Borough Market Tour in London
A popular food market has existed on Borough High Street near London Bridge since the 13th century. Today, London's oldest fruit and veg market boasts a blue plaque and over 100 individual stalls with fresh cheese, meat, baked goods, seasonal produce and seafood.
Churchill War Rooms
During the Second World War, British Prime Minister Winston Churchill ran his nation's war effort from a secret underground bunker. Tucked away beneath busy Whitehall, you can turn back the clock and experience these historic rooms as they were left in 1945.
Admiralty Arch Tour
Located between The Mall and Trafalgar Square, Admiralty Arch is presented elegantly overhead. Completed in 1911 to commemorate the reign of Queen Victoria, the Portland stone structure is much more than an arch, it's actually a functional building.
Seven Dials Walking Tour
If you're looking for that village feel in the middle of London, check out Seven Dials next to Covent Garden. Named after a large pillar with six sundials (the seventh sundial is the pillar itself), the popular area is marked by seven short streets that converge at the dial's foot. Independent shops, small chain cafes, bars and theatres are all located nearby.
Wimbledon Lawn Tennis Museum and Tour
Go behind-the-scenes to visit Centre Court, see the gleaming trophies and test your backhand. Enjoy interactive displays, mementos of stars past and present, and get an inside look at Wimbledon traditions
Portobello Road Market Walking Tour
Vintage bargain hunters swear by the eclectic finds at Notting Hill's colourful Portobello Road Market. The world's largest antiques market is in full swing every Saturday with more than 1,000 dealers of second-hand goods and forgotten treasures.
Shakespeare's Globe Theatre
This perfect reconstruction of the original Globe Theatre allows you to experience Shakespeare's classics the way they would've been performed in the 16th century.
Somerset House Tour
London is bursting at the seams with historic architecture, but the neo-classical Somerset House is a true standout. Built in the late 1770s, it's home to art exhibitions, open-air concerts, and 55 sparking fountains. It's worth a visit in the winter too because the courtyard hosts one of the world's best skating rinks.
River Thames Boat Cruises in London
Much of London's history and culture is tied to the River Thames, and a cruise down this world-famous waterway offers a new perspective on familiar London attractions. See the Houses of Parliament, St. Paul's Cathedral, Shakespeare's Globe and the Tower of London as you've never seen them before.
Imperial War Museum
Housed inside the former Royal Bethlem Hospital (known as "Bedlam"), the Imperial War Museum offers visitors a unique and engaging look at conflict since World War I. Photographs, artifacts (such as a Spitfire plane and Harrier jet suspended from the ceiling of the atrium), and extensive exhibits convey the great losses, sacrifices and experiences faced in times of war.
Brick Lane Walking Tour
Fancy a spicy curry? Brick Lane in London's East End is the go-to destination for authentic Bangladeshi cuisine. Work up your appetite beforehand at Brick Lane's weekend flea market, where you can browse the stalls for vintage clothes, handmade jewellery and music.
Next Steps
Get started and pick up a fantastic bargain today when you sign up and use easyGuide discount codes. Save money on tickets for your next visit to the most popular tourist attractions and tours around the world when you visit easyGuide.biz.