Millennium Hotels & Resorts Discount Code
If you are you searching for a Millennium Hotels discount code, then you've come to the right place. We have already featured several fantastic promo code campaigns this year and this is your opportunity to book rooms and suites at luxury five star hotels and resorts at a reduced room rate.
The accommodation is located worldwide and this hotel group is popular for weddings, spa breaks, fine dining and business event meetings. New Zealand is one of the most popular holiday destinations with Millennium Hotels & Resorts and they offer accommodation in the most in appealing locations including Asia, Europe, the Middle East and the United States of America.
Today we show you how to save up to 50% and get the best discount code on the internet.
Discount Promotion : Worldwide Hotels

Introducing an attractive worldwide discount offer with no expiry date for all hotels: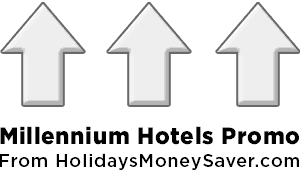 Notes regarding the award winning offer above - this is your opportunity to receive discounts and benefits every time you stay at Millennium, anywhere in the world:
Enjoy special room rates and SAVE 10% - 12% DISCOUNT.
Earn 10 MyMillennium points for every $1 spent.
You can earn double My Millennium Points for every 10 nights you stay.
Use MyMillennium points to redeem for a FREE STAY or redeem for exciting rewards.
If you have not enough points to redeem for a complimentary night, enjoy the flexibility to top up with cash when you book direct.
You can use your points to redeem Instant Rewards, including club lounge access, laundry services or a restaurants dining voucher.
You can use your MyMillennium Points to upgrade your room.
You can even redeem your points at certain stores including Apple Store, Amazon and Marks & Spencer.
During your birthday month, you can look forward to treats such as dining discount, as well as triple MyMillennium Points.
Enjoy FREE Wi-Fi in your room.
Booking Promotion SAVE Up To 30%
How to Submit a Code at MillenniumHotels.com
As a starting point, please visit the official site as normal: MillenniumHotels.com.


Please note that the latest code promotions are often displayed on the 'Offers' page (please see below).


On the home page using the accommodation search bar, please select a destination or enter the name of your preferred hotel property.


Choose your check-in dates and check-out dates and then enter the room occupancy requirements (number of adults / children and number of rooms).


Next, please click 'Advanced Search' and this will reveal a drop-down menu option.


Now please enter a valid code (or copy/paste) where it says [Use Promo/Offer Code].


Finally, please click 'BOOK NOW' and the discounted room rates will be displayed in the search results.
New Offers SAVE Up To 50%
Now let's explore the worldwide discount offers ranging from 10% to 50% at a range of different destinations, which can include luxury hotels and resorts in Asia, Europe, Middle East, New Zealand and the United States:
View Latest >>> New Discount Offers <<< View Latest

View List >>> All Destinations <<< View List
China
Beijing: Grand Millennium Beijing # Millennium Residences @ Beijing Fortune Plaza
Chengdu: Millennium Hotel Chengdu
Fuqing: Millennium Hotel Fuqing
Hangzhou: Millennium Resort Hangzhou
Shanghai: Grand Millennium Shanghai HongQiao
Wuxi: Millennium Hotel Wuxi
Wuyishan: Millennium Resort Wuyishan
Xiamen: Millennium Harbourview Hotel Xiamen
Zunyi: Millennium Hotel Zunyi
Hong Kong: New World Millennium Hong Kong Hotel
Taiwan
Taichung: Millennium Hotel Taichung
Hualien: Millennium Gaea Resort Hualien
France
Paris: Millennium Hotel Paris Charles De Gaulle # Millennium Hotel Paris Opera
Georgia
Tbilisi: The Biltmore Hotel Tbilisi
Indonesia
Jakarta: Millennium Hotel Sirih Jakarta
Iraq
Sulaimani: Copthorne Hotel Baranan # Grand Millennium Hotel Sulaimani # Millennium Kurdistan Hotel and Spa
Italy
Rome: Grand Hotel Palace Rome
Japan
Tokyo: Millennium Mitsui Garden Hotel Tokyo
Jordan
Amman: Grand Millennium Amman
Kuwait
Al Jahra: Copthorne Al Jahra Hotel & Resort
Kuwait City: Copthorne Kuwait City # Millennium Hotel and Convention Centre Kuwait
Malaysia
Cameron Highlands: Copthorne Hotel Cameron Highlands
Kuala Lumpur: Grand Millennium Kuala Lumpur
Penang: Copthorne Orchid Hotel Penang
New Zealand
Auckland: Copthorne Hotel Auckland City # Grand Millennium Auckland # M Social Auckland
Bay of Islands: Copthorne Hotel and Resort Bay of Islands # Kingsgate Hotel Autolodge Paihia
Dunedin: Kingsgate Hotel Dunedin
Greymouth: Kingsgate Hotel Greymouth
Hokianga: Copthorne Hotel and Resort Hokianga
New Plymouth: Copthorne Hotel Grand Central New Plymouth # Millennium Hotel New Plymouth Waterfront
Palmerston North: Copthorne Hotel Palmerston North
Queenstown: Copthorne Hotel and Resort Queenstown Lakefront # Copthorne Hotel & Apartments Queenstown Lakeview # Millennium Hotel Queenstown
Rotorua: Copthorne Hotel Rotorua # Millennium Hotel Rotorua
Taupo: Millennium Hotel and Resort Manuels Taupo
Te Anau: Kingsgate Hotel Te Anau
Wairarapa: Copthorne Hotel & Resort Solway Park Wairarapa
Wanganui: Kingsgate Hotel The Avenue Wanganui
Wellington: Copthorne Hotel Wellington Oriental Bay
Oman
Muscat: Grand Millennium Muscat # Millennium Executive Apartments Muscat
Mussanah: Millennium Resort Mussanah
Salalah: Millennium Resort Salalah
Palestine
Ramallah: Millennium Palestine Ramallah
Philippines
Manila: The Heritage Hotel Manila
Qatar
Doha: Copthorne Hotel Doha # Kingsgate Hotel Doha # Millennium Hotel Doha # Millennium Plaza Doha
Saudi Arabia
Hail: Millennium Hail Hotel Saudi Arabia
Madinah: Millennium Al Aqeeq Hotel # Millennium Madinah Airport # Millennium Taiba Hotel
Makkah: Copthorne Makkah Al Naseem # M Hotel Makkah by Millennium # Makkah Millennium Hotel # Makkah Millennium Towers # Millennium Makkah Al Naseem
Riyadh: Copthorne Hotel Riyadh
Singapore
Copthorne Kings Hotel Singapore # Grand Copthorne Waterfront # M Hotel Singapore # M Social Singapore # Orchard Hotel Singapore # Studio M Hotel Singapore
Thailand
Phuket: Millennium Resort Patong Phuket
Turkey
Istanbul: Millennium Istanbul Golden Horn
UAE
Abu Dhabi: Bab Al Qasr Hotel # Grand Millennium Al Wahda # Kingsgate Hotel Abu Dhabi by Millennium
Dubai: Copthorne Hotel Dubai # Grand Millennium Business Bay # Grand Millennium Dubai # M Hotel Downtown by Millennium # Millennium Airport Hotel Dubai # Millennium Al Barsha # Millennium Atria Business Bay # Millennium Place Marina # Millennium Plaza Hotel Dubai # Studio M Arabian Plaza
Fujairah
Sharjah: Copthorne Hotel Sharjah
United Kingdom
Aberdeen: Copthorne Hotel Aberdeen
Birmingham: Copthorne Hotel Birmingham
Cardiff: Copthorne Hotel Cardiff-Caerdydd
Dudley: Copthorne Hotel Merry Hill-Dudley
Gatwick: Copthorne Hotel Effingham Gatwick # Copthorne Hotel London Gatwick
Glasgow: Millennium Hotel Glasgow
Liverpool: Hard Days Night Hotel Liverpool
London: Copthorne Tara Hotel London Kensington # Millennium and Copthorne Hotels at Chelsea Football Club # Millennium Gloucester Hotel London Kensington # Millennium Hotel London Knightsbridge # The Bailey's Hotel London # The Chelsea Harbour Hotel
Manchester: Copthorne Hotel Manchester
Newcastle: Copthorne Hotel Newcastle
Plymouth: Copthorne Hotel Plymouth
Reading: Millennium Madejski Hotel Reading
Sheffield: Copthorne Hotel Sheffield
Slough: Copthorne Hotel Slough-Windsor
United States
Anchorage: The Lakefront Anchorage
Boston: The Bostonian Boston
Boulder: Millennium Harvest House Boulder
Buffalo: Millennium Buffalo
Chicago: Millennium Knickerbocker Chicago
Cincinnati: Millennium Cincinnati
Durham: Millennium Durham
Los Angeles: Millennium Biltmore Los Angeles
Minneapolis: Millennium Minneapolis
Nashville: Millennium Maxwell House Nashville
New York: Millennium Broadway New York Times Square # Millennium Premier New York Times Square
Scottsdale: The McCormick Scottsdale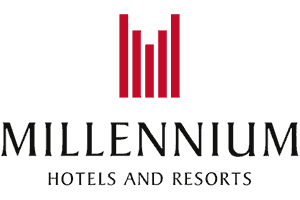 Currency:
Multi-currency, a large number of global currencies are supported. Depending on which destination country you select, you can see your price in a number of major global currencies, which can include:
AED: United Arab Emirates Dirham.
AUD: Australian Dollars.
CAD: Canadian Dollars.
EUR: Euros.
GBP: British Pounds.
HKD: Hong Kong Dollars
NZD: New Zealand Dollars
USD: US Dollars.
CHF: Swiss Franc.


Website Language:
Multilingual international sites:
English: (EN).
Français: Code de Réduction (FR).
Español: Código Promocional (ES).
Italiano: Codice di Sconto (IT).
Arabic: (AR)
Chinese: (CH)
Japanese: (JP)
Brands:
It is comprised of 4 main collections:
LENG'S COLLECTION.
M COLLECTION.
MILLENIUM COLLECTION.
COPTHORNE COLLECTION.
Website:
Find out more at the www.millenniumhotels.com official site.