Are you searching for coupon codes for TopView Sightseeing in NYC in 2020 or 2021? Here comes the fantastic news because we have a new 40% promo code discount for Hop-on Hop-off Bus Tours in New York.
OK, let's start by revealing this new discount offer from HolidaysMoneySaver.com:
View Coupon Code & Open Site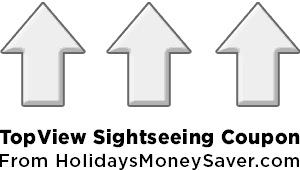 How to Enter a Discount Code at TopView Sightseeing in NYC
To start, please visit the official website: TopViewNYC.com.


Now choose a Hop-on Hop-off Bus Tour package and then click the 'BUY NOW' button.


Select the number of adults and children going on your bus tour.


Now please enter your email address, first name and second name and then click the 'Proceed to Checkout' button.


On the right side of the screen, please click 'Would you like to redeem a coupon code?'.


Next, simply type the code (or copy/paste) in the space where it displays: [Coupon Code].


Now click the small arrow and it will show the following message: 'Coupon applied successfully. You are getting 40% OFF the walk-in price'.


And that's it! To pick up the 40% discount saving, just fill out the short form and then click 'Complete Your Order'.

Save Money on Tickets & Sightseeing Passes

This your opportunity to spice up your vacation trip and save even more money when you upgrade your TOP VIEW sightseeing experience in New York City and purchase a discounted All City Pass or the Attraction Pass tickets at TopView NYC
.
New York Hop-On Hop-Off Sightseeing Passes
NYC Sightseeing Pass 48 Hours
NYC Sightseeing Pass 72 Hours
NYC Sightseeing Pass 5 Days
NYC Saver Pass Same Day
NYC Saver Pass 24 Hours
NYC Downtown Pass
Single Entry Tours
Single Ride Pass
NYC Sightseeing Night Tour
New York Attraction Passes
Attraction Pass 24 Hours
Attraction Pass 48 Hours
Attraction Pass 72 Hours
Attraction Pass 4 Days
Attraction Pass 5 Days
Attraction Pass 7 Days
Liberty Cruises at Liberty Island & Lower Manhattan

We have more good news because we also have a seperate promo code for Liberty Cruises and we offer a 40% discount deal for 'Liberty Cruise Select' or 'Liberty Cruise Express' or 'Liberty Cruise Saver':
Liberty Cruises Select
Liberty Cruises Express
Liberty Cruises Saver
Location Map & Bus Routes

With multiple bus tours departing at various locations throughout the city, please check hours of operation on the daily schedule and view the Bus Map & Routes
to choose the right tour for your needs at TopViewNYC.com
.