Let's travel the world with our StayPlanet 10% promo code for your 100% dream holiday. That's right, you can save 10% discount on your next vacation and travel the world within your budget and see everything the planet has to offer.
We are not just talking about hotels, because StayPlanet is a holiday rental booking engine which offers real-time bookings for home stay, farm stay, village stay, camping, apartments, hostels and B&Bs.
Let's take a look at this new voucher code coupon for 2020: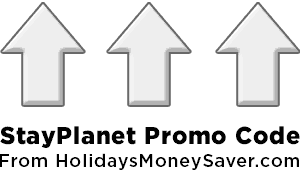 How to Enter the Coupon Code at StayPlanet
To start, please visit the official website as normal: StayPlanet.com.


On the home page, please select 'ACCOMMODATION' or 'ACTIVITIES'.


Using the website tool bar, please enter your dates and then search and browse, as normal.


When you are ready to save money, click 'Book Now' and this will take you to the 'Booking Summary' page.


On the left side of the screen, simply copy and paste the code above and then click 'Apply Coupon'.


And that's it! Congratulations, you have just save 10% on your booking.


In green text, it will show the wording: '10% coupon discount has been applied to your booking! Please continue by clicking book now to see the discounted price on invoice page.'


This code provides 10% discount on our hotels and tours and the offer expires 16/05/2020.
StayPlanet aims to promote cultural exchanges between travellers and the local community to encourage peace through tourism by providing you with your ideal accommodation at an affordable price. The goal is to provide you with an enjoyable experience whether you are away for business or leisure.
StayPlanet offers a range of accommodation types to suit travellers of all ages and backgrounds, from 5-star hotels in the busy city, to a quiet cottage in the countryside and even unique accommodation such as a houseboat.
The site provides a variety of activities to make your holiday experience that bit more special. From tours and safaris to student internships programmes, Stay Planet wants to help you find something that will educate, entertain or both during your holiday.
If you want a homestay, they want to ensure a good match between home-stay seekers and providers. Each guest will have the opportunity to interact with the host to gain knowledge and experience of the lifestyle and culture of the local community. The aim is to support the host and guest in building a positive relationship for your trip.
The service is ideal for travellers over 18, seeking an alternative vacation experience and groups seeking temporary or specific destinations alongside home stay community activities. Here is a snapshot of the typical website users:
Students, (exchange), youths, adults, professionals.


Cultural, social and sports groups.


Property rental providers are typically persons and families that have sufficient living space to comfortably accommodate one or more guests in their home or property.


Tours & Activities: Local artisans/crafts meet & greets, farm tours, walking tours, bicycle tours craft brewery tours, food & cooking workshops on difficult-to-accomplish regional dishes, etc.


The key accommodation providers are hostel operators, Bed & Breakfast establishments, condo-hostel, hotels, etc.


Farmstays can be perfect for people seeking an agri-tourism experience.
StayPlanet Review Promotion
The new promotional code above for 2020 provides 10% discount worldwide on hotels and activity tours. In reviewing this offer, please consider the website also offers a car rental service along with a car pick-up and drop-off service. StayPlanet offers a unique travel booking experience, so that you can Travel the World within your Budget. Independent reviews of the site have found the booking prices are consistently low, much lower than many other leading travel sites and price comparison websites. You get the peace of mind of dealing with a friendly company based in Dublin in Ireland, with a telephone help line +353 1879 2363 and they can also be contacted through their website contact form or directly on email.
Learn more and browse through the latest deals at StayPlanet.com.