CityUnscripted provides city tours and personalised experiences around the world and they believe you should explore a city with the people who truly love it! They believe in exploration, people, conversation, amazing cities and great relationships.
We show you how to save money at CityUnscripted.com and we have a new promo code offer which is valid for 2022.
OK, let's start by having a look at this new promotional code offer:
View Promo Code Offer
& Book City Tours
How to Save Money at City Unscripted
To start, please visit the official website as normal: CityUnscripted.com.


Next, please select a city and then choose a tour or a experience from your chosen city destination.


Now select the date, the start time and the number of adults and children in your group (up to 6 persons).


We're almost done, so please click on 'BOOK NOW'.


This will take you to the payment page. In the bottom right corner it says 'Add Promo Code'.


Please enter the code above and click 'Apply'.


And that's it! Your purchase price will be reduced by 10% discount, according to your currency preference.


Simply complete the payment form and click 'Confirm Booking'.


Please note this offer is valid for your first time purchase.


Please note you must register your email address to receive the 10% coupon code.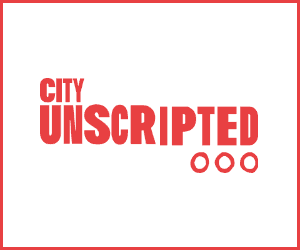 Discover Tours & Unique Experiences at Worldwide Destinations
A huge selection of customised tours and experiences is available at exotic cities around the world. The website also provides 'Things To Do' guides for your holiday destination for most cities:
Australia
Melbourne ~#~ Sydney
Belgium
Brussels
China
Hong Kong
Czech Republic
Prague
France
Paris
Germany
Berlin
Hamburg
Munich
Hungary
Budapest
Ireland
Dublin
Italy
Bologna ~#~ Milan ~#~ Rome
Japan
Fukuoka ~#~ Kyoto ~#~ Osaka ~#~ Sapporo ~#~ Tokyo
Mexico
Mexico City
Netherlands
Amsterdam
Portugal
Lisbon
Singapore
Singapore
South Africa
Cape Town
South Korea
Seoul
Spain
Barcelona ~#~ Madrid
Sweden
Stockholm
Taiwan
Taipei
Thailand
Bangkok
Turkey
Istanbul
USA
New York ~#~ San Francisco ~#~ Seattle
United Kingdom
Edinburgh ~#~ Liverpool ~#~ London ~#~ Manchester
Questions & Answers
One of the most common questions is about groups and the number of people who can attend a tour. CityUnscripted accommodates 6 people per tour/experience and children up to 12 years old go for free.
For other questions, you can contact the company by phone on +44 (0)20 3776 1000, email, live chat or WhatsApp on +44 7518 525212 and a representative will provide a personalised response to your queries.
OK, let's review this special discount offer. Please note this latest promotion replaces our previous GBP £5 or EUR €5 or USD $5 discount code for first time purchases. In reviewing this latest promotion, it was noted that a 10% promotion was running for new members. When you visit the website for the first time, you will be invited to join and become a member free of charge. The huge benefit of membership is that you can receive an instant 10% discount code when you join. You can learn more at the official CityUnscripted website: CityUnscripted.com.