City Sightseeing is recognised around the world because of its popular red open-top double-decker buses. Hop-on Hop-off Bus Tours are found in more than 110 cities across the globe and many travellers now prefer this friendly tour concept to explore a new tourist destination.
Are you searching for a promo code discount for City-Sightseeing.com Hop-on Hop-off Bus Tours? We have recently featured a discount code with a price reduction ranging between 10% and 20%.
OK, let's start by having a look at this new promotional code offer for 2022:
View Promo Code & Open Site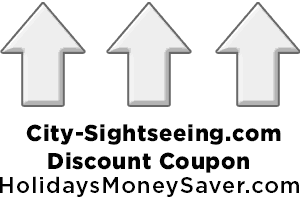 Notes regarding the offer above: we have provided a handy guide below with guidance on how to submit the coupon online, to ensure you save money on your next Iconic Bus Tour.
Please note the CitySightseeing offers will vary depending on the destination and the current seasonal promotions: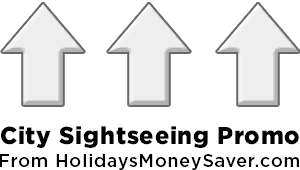 CitySightseeing is established in over 100 locations worldwide. Their bright red open top buses are popular with tourists and visitors at many of the world's top destinations. All of the tours are sold on this global booking website through the promotional offer above.
How to Enter a Discount Code at City-Sightseeing.com
As a starting point, please visit the official website as normal: City-Sightseeing.com.


Now please choose an Iconic Hop-On Hop-Off Bus in a city and destination of your choice.


Next, select your date and select the number of tickets required for adults, children and infants.


Click the [See Options] button and then click the [Add To Cart] button.


On the right side of the screen, it says 'Do you have a discount coupon?'.


Please enter the code above and then click the [Apply] button.


And that's it! Your Iconic Hop-On Hop-Off Bus ticket price will be reduced by 10% - 20%, depending on the official offer.


Finally please click the [Check-Out] button and then take your discounted ticket purchase into the secure payment area.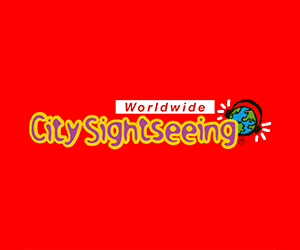 Worldwide City Destinations for Iconic Bus Tours

Choose from an amazing selection of flexible bus ride tours in over 100 global destinations:
Australia: Melbourne
Belgium: Brussels
Bosnia and Herzegovina: Sarajevo
Czech Republic: Prague
Cyprus: Cyprus
Colombia: Cartagena
Canada: Toronto
Denmark: Copenhagen, Aarhus
Estonia: Tallinn
Finland: Helsinki
France: Paris
Greece: Athens, Corfu, Thessaloniki
Germany: Berlin, Kiel, Potsdam, Trier
Hungary: Budapest

Iceland: Reykjavik
Ireland: Dublin, Galway
Luxembourg: Luxembourg
Latvia: Riga
Lebanon: Beirut
Malta: Gozo, Malta
Norway: Alesund, Bergen, Geiranger, Oslo, Stavanger
Netherlands: Amsterdam, Rotterdam
Poland: Krakow, Warsaw, Gdansk
Portugal: Albufeira, Funchal, Porto, Lisbon, Sintra
Peru: Lima
Panama: Panama City
Russia: Kazan, Moscow, St Petersburg
South Africa: Cape Town, Johannesburg
Spain: Seville, Barcelona, Benalmadena, Cadiz, Cordoba, Jerez, Las Palmas de Gran Canaria, Malaga, Palma de Mallorca, Santander, Toledo
Sweden: Stockholm, Gothenburg
Singapore: Singapore
Saudi Arabia: Medina
South Korea: Seoul
Ukraine: Kiev
United Kingdom: Bath, Bournemouth, Brighton, Cambridge, Cardiff, Chester, Derry-Londonderry, Edinburgh, Glasgow, Inverness, Llandudno, London, Norwich, Oxford, Stratford-upon-Avon, York, Belfast, Oban, Scottish Borders
United States of America: Hollywood - Los Angeles, Miami, New Orleans, New York, Philadelphia, San Antonio, San Francisco, Washington DC, Orlando, Natchez, Seattle, Las Vegas, Nashville
United Arab Emirates: Dubai, Sharjah
Next Steps
Lots of options are available to upgrade your bus tour package with discounted tickets for popular tourist attractions and boat tours. Let's get started and please begin by choosing your preferred destination at City-Sightseeing.com
.