Are you searching for promotion codes for Apartments4You (Apartments For You)? With over 200,000 holiday home apartments worldwide, here comes the good news because we have fantastic promo code offers for you: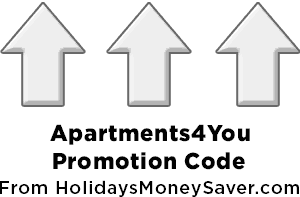 How to Enter a Discount Code at Apartments 4 You
To start, please visit the official website as normal: Apartments4You.com.


Now choose a rental property (use the website special features: Search, or Late Deals or Destinations).


Please click [Book] next to your preferred holiday home.


This will take you to the property detail page ('Traveller & Billing Information').


In the top centre of the screen, please enter a valid code (or copy and paste) where it says [Promotion Code]. Please note the codes above are exclusively valid for Late Deals.


Now click the 'Apply' button and then you will see the discounted rental rates, including the original price and the discounted booking rate.


Finally please enter your billing details and then take your discounted apartment through the secure payment process.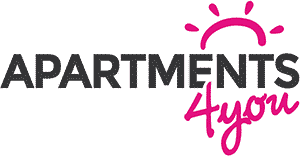 Popular Worldwide Holiday Destinations
Argentina | Aruba | Australia | Austria | Bahamas | Brazil | Canada - Eastern | Canada - Western | Caribbean | China | Costa Rica | Egypt | Finland | France | Greece | Hungary | India | Italy | Kenya | Mexico - Gulf Coast | Mexico - Pacific Coast | New Mexico | Philippines | Poconos | Portugal | Scotland | Sint Maarten (Saint Martin) | Spain | Sweden | United Kingdom | Uruguay | Venezuela
Did You Know?

Apartments4You is actually part of Wyndham Destinations and you can choose from over 4,000 resorts in over 100 destinations worldwide. Many of the apartment complexes host a number of on-site facilities including swimming pools, bars and restaurants.
When it comes to customer service and satisfaction, you can feel confident in the holiday accommodation you've booked. The properties are hand-picked and owner-managed to ensure your comfort and safety. Trusted by more than 4 million holidaymakers every year, you can rely on Wyndham Destinations to provide you with rental accommodation and a holiday experience you'll never forget for all the right reasons.
Next Steps
Here at HolidaysMoneySaver.com, we have already posted exclusive voucher coupons ranging from 10% to 12% discount. Save money on your next holiday adventure and please remember to come back and visit this page again when we post the latest promo code deals. Now we invite you to view the latest promotions and check out the newest vacation rental properties when you visit Apartments4You.com.