The Best Discount Codes For Worldwide Holiday Booking Sites
This site is dedicated to providing you with the lowest prices and the best promo codes for the world's leading holiday booking websites.
easyGuide Promo Code SAVE 10% on Tours, Attractions & Activities
We have 3 different promo code discounts for easyGuide for you today and you can SAVE 10% discount on tickets for tourist attractions and activities in 2021. easyGuide provides discounts at hundreds of exciting worldwide attractions, activities, experiences, and theatre shows at cities around the world to local people and international tourists.
If you're searching for the £50 easyGuide promo, you've come to the right place! Let's start be revealing these exclusive global discount codes: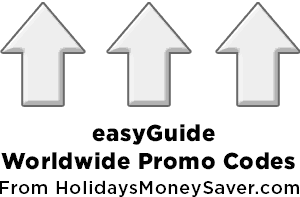 Save money on tickets for your next visit to the most popular tourist attractions and tours around the world when you visit easyGuide.biz.
---
Worldwide Exclusive Deal 5% Isango! Promo Code
Let's start with an exclusive promo code for Isango! We have a new exclusive discount offer in 2021-2022 for Isango and you can pick up a 5% price reduction when you book online at isango.com.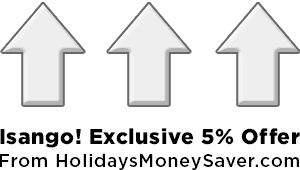 This is your opportunity to spice up your holiday and create some incredible memories from your next vacation. Through our exclusive promotion at HolidaysMoneySaver.com, you can save money on events, tickets, sightseeing, guided tours, museums, theme parks, tourist attractions and other exciting activities at Isango! Learn more about this new Isango promo code deal.
---
UK Holiday DEAL OF THE YEAR at Shorefield Holidays
Use our new promo code for 2021 to save money at Shorefield Holidays in the UK: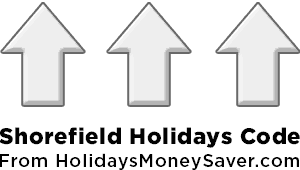 We have everything covered so remember to check out the latest deals. We have already featured an amazing sale providing discount savings up to 30% OFF and you could SAVE £250 on early booking holidays. Check out the latest deals for half term breaks (3 or 4 nights) along with new promotions for the school summer holidays. Pick up a fantastic holiday offer during Easter or choose weekend breaks during the popular UK public holidays throughout the year. Make sure you book early and select your preferred accommodation today.
The promotions can include great price reductions for the school holidays, camping and touring promotions at the holiday parks, midweek caravan or lodge breaks at Shorefield or Oakdene, along with the very latest seasonal offers at Shorefield Holidays.


2021 Coronavirus COVID-19 Booking Guarantee

For your peace of mind, today you can learn more about the Coronavirus COVID-19 Booking Guarantee at Shorefeld which is available during 2021 to allow you to move your holiday, get a no-quibble refund or redeem your credit at a later date.
---
Asia Holiday DEAL OF THE YEAR at Wendy Wu Tours
WOW £1,600 Offer - this could be our best deal ever! Plus, we are going to show you how to SAVE UP TO £1,200 per person in 2021 - 2022 through this free upgrade offer at WendyWuTours.co.uk.
Plus you can save up to £399 - £1,060 per person on worldwide tours in 2021 and 2022 (please see below), so let's get started: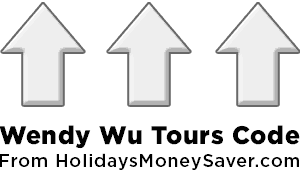 Learn more about this special offer for a FREE business class upgrade and discover the amazing deals available on Asia tours during the next 2 years at Wendy Wu Tours.

---
Exclusive DEAL OF THE MONTH Hotelopia Discount 12% - 13%
Are you searching for the best Hotelopia Discount Code? Every day this month, we are offering an amazing 12% to 13% price reduction in your currency.
This promotion is valid for hotel bookings in any country worldwide, on any date available including public holidays and school term vacations.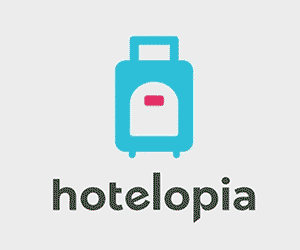 Not only do we provide a 12% to 13% cost reduction, but the discounted offer is provided on top of the 'Best Price Guaranteed'. Even better, no discount code is required to save money with this new promotion.
At the official Hotelopia website, it's easy to choose your language and currency by using the drop-down menu at the top of the screen.
Hotelopia.com 8% Worldwide Discount Code
Please note this offer is for the full site, meaning the international .COM site:
View 8% Hotelopia Discount Code & Open Site